By Richard Phillips and Danna Liebert
Are you thinking of replacing some of your lawn this year with native grasses? Would you like to convert part of your yard to a native plant garden? Well, you may be able to get a rebate from your local municipality or water provider to help with the costs! As you might expect, the primary driver of these programs is water conservation and savings. Under Colorado House Bill HB22-1151, there will be state funding available to cities to expand their existing turf replacement programs or establish new programs this Spring, so we should be seeing more local turf conversion programs this year. HB22-1151 was discussed in more detail in the December 2022 WOFR Newsletter (see "Colorado Landscaping Summit Recap").

In almost all the programs there is reference to "xeriscaping." That's the term coined by Denver Water (and others) back in 1981 for a landscaping technique that prioritizes water conservation. Since xeriscaping refers to the use of any low water plants, regardless of their geographic origin or ecological value, it is the position of WOFR that the term needs to be updated to prioritize the use of native plants. Most of the plants native to our region require little, if any, supplemental irrigation once established and they have the additional benefit of supporting the local insect population, which means greater biodiversity, more food for birds, and more pollinators. Additionally, native plants with their deep roots help sequester carbon and mitigate flooding.
The table below summarizes the turf replacement programs for a group of Front Range cities. If you don't see your city listed, it doesn't mean that they don't have a program, it just means that they weren't checked – or perhaps they are waiting to see if they receive funding through HB22-1151 (one can hope!). If your city is not listed, just go online and search for "turf or lawn replacement programs" for your city.
Many cities combine their rebates with Lawn Removal or the Garden in a Box program offered by Resource Central (RC). You can go on their website for more information. This year, RC's boxed gardens contain a majority of plants that are native to CO.
Three stellar programs are those offered by Aurora, Castle Rock and Fort Collins. Aurora will provide rebates up to $4,000 and they have an extensive list of native plants that are accepted. Castle Rock offers rebates up to $1,800 and allows a wide selection of native plants. Fort Collins offers rebates up to $1,000, including a bonus for use of native plants.
Currently, two notable exceptions on the table are the two largest cities in the state – Colorado Springs and Denver.
If you are planning to reduce your lawn area this year, hopefully you live in a city that will provide cost assistance with your gardening plans. It is important to sign up early for the program, since their funds are limited (many cities have waiting lists if the program is not active yet).
Whether or not your city has a turf conversion or replacement program, you can advocate to establish and expand these programs along the Front Range – see our Advocacy News and Action section for actions you can take to promote turf conversion to native plants!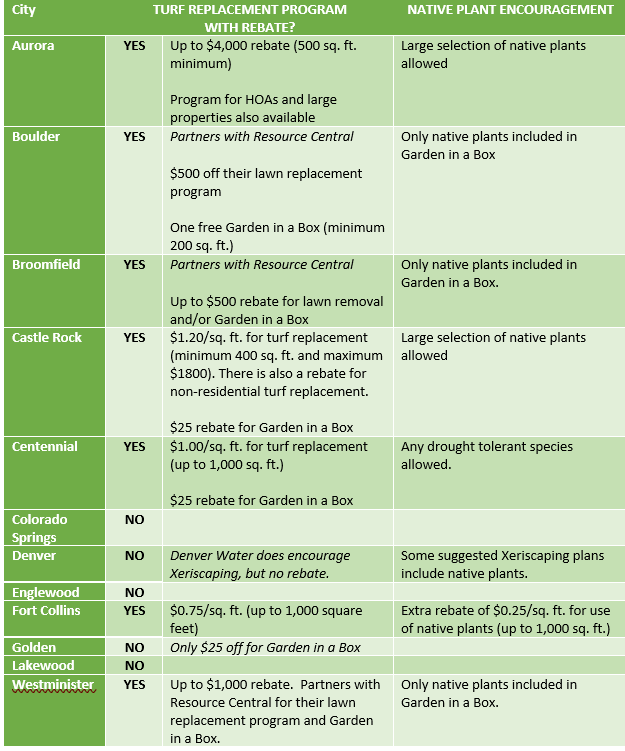 Curious to learn more about transforming your garden into a habitat with Colorado native wildflowers, grasses, shrubs, and trees? Check out our native gardening toolkit, register for an upcoming event, subscribe to our newsletter, and/or become a member – if you're not one already!