Fall is in the air and that means it's SEED SWAP season!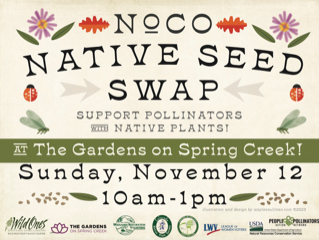 No matter your gardening experience, you'll find something of interest at the Native Plant Seed Swap & Giveaway. 

We'll have a variety of seeds including annuals, perennials, shrubs, trees and grasses ranging from easy-to-difficult to propagate.  One plant can produce hundreds of seeds so there is always plenty to share.

When:
Sunday, November 12, 2023, 10am-1pm

Where:
The Gardens on Spring Creek
2105 Centre Ave, Fort Collins, CO
Swaps rely on community participation—so read on for ways you can contribute!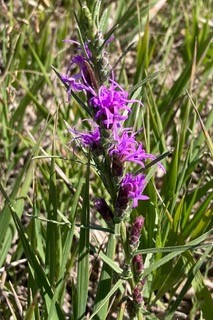 Share your native seed
Harvest your Colorado native or regionally native seed and bring it to the swap—provide it to volunteers at check in to be catalogued and stocked in display. Native plants evolved in the area along with the insects and other wildlife that rely on them. If in doubt, ask Peggy whether you have native.
IMPORTANT: To ensure your harvest is added to the available inventory, package seeds by species, (jars are preferable for larger quantities, coin envelopes are good for single servings) and label as follows:
• Latin Name
• Common Name
• Elevation & City or County Collected
• Collection Year
• Your First Initial and Last Name.
Please collect responsibly. Obtain permission from land owner/steward where seeds are located. If source plants show evidence disease or bug infestation, please do not share the seed. Also, no seeds treated with pesticides, nor noxious weeds (some are quite pretty and can be confused).
Volunteer
Share your experience and help others learn. Newbies volunteers are welcome, we'll have experts onsite to help with the tough questions.
Sign up to volunteer to help at the event.
Come "shop"
Find seeds of native plants to add to your garden—for free!
Find seeds of native plants to add to your garden—for free! Read propagation tips here, with more available at the swap. Feel free to bring your own clean containers if you want to make your own seed mix.
Having trouble explaining your enthusiasm for native plants to friends and neighbors? Ask them to join you on this outing and they'll see you're not alone…it's infectious.
Donate
Financial donations made today will be pooled to cover event costs and fund the organizing partners' missions. Donate HERE.
Sponsored by:
Front Range Wild Ones, People and Pollinators Action Network, USDA Natural Resources Conservation Service, City of Fort Collins Nature in the City, League of Women Voters, Wildands Restoration Volunteers, The Gardens on Spring Creek, and Colorado Native Plant Society.
Have other questions? Please contact Peggy Hanson