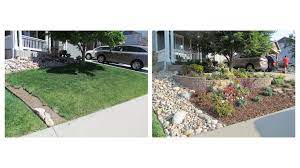 As discussed in the February WOFR newsletter, the Colorado General Assembly enacted House Bill 22-1151 in June, 2022. This legislation established a statewide turf replacement program and authorized a limited amount of funding to accelerate lawn conversions. Grants provided under HB-22-1151 will complement and further support the existing rebate and incentive programs of local municipal water providers, which were detailed in the February newsletter, and help establish and support new local programs throughout the state.
The Colorado Water Conservation Board (CWCB) is the agency charged with administering this program. HB 22-1151 appropriated $2 million to the CWCB over a 2-year period. After accounting for administrative costs, CWCB plans to spend approximately $750,000 during each of two funding cycles. $1.1 million ($550,000 per cycle) will be available to leverage incentives currently provided by water providers and $400,000 ($200,000 per cycle) to establish and support new programs.
New Grant Programs
On January 25 of this year, the CWCB launched its competitive grant application program. The initial application period runs from January 25, 2023 to March 31, 2023. Funding is not expected to exceed $25,000 per funding cycle for any one eligible entity. Applications must include a dollar-for-dollar match for the funds being requested. In some cases, a combination of cash and/or in-kind contributions may be considered.
Eligible entities can apply for funds to either expand their existing community turf replacement or request support for starting a new initiative. The following types of entities are eligible to apply:
Local Government (municipalities, counties, cities, public agencies, municipally owned water providers)
Districts (metropolitan districts, special districts, water districts, water and sanitation districts, conservancy districts)
Nonprofits (organizations with 501(c)(3) status who work in water with related skills and capacity)
Colorado's Federally Recognized Tribes (Ute Mountain Ute and Southern Ute Indian Tribes)
The new program also includes a Transformative Landscape Change (TLC) Challenge, which is a smaller competitive grant program under which three selected communities across Colorado can have up to 2,000 square feet of turf removed at a single location and obtain replacement Garden in A Box kits. CWCB has partnered with Resource Central to administer these grants.
Novel aspect of the new CWCB program: It allows qualified non-profit organizations to apply for grants to establish turf replacement incentives. While HOAs are not eligible, there may be other types of organizations that could apply. For example, local watershed protection groups might have the interest and capacity to receive grants.
Significant drawback of the new CWCB program: It does not prioritize the use of native plants in the grant application and award process. Rather, it uses the dated term "xeriscaping," which could include non-native low-water plants that do not provide the ecological benefits of natives, or even areas of gravel, rock, and other hardscaping.
While HB-22-1151 is a good way to boost turf replacement efforts in Colorado, the economics remain challenging. A very preliminary estimate of the benefits of this $2,000,000 program by BBC Research & Consulting indicated that it might increase lawn conversions by 1.1 million square-feet (25 acres) in total over two years. This would be about double the area of turf (just over 23 acres) that was replaced during the most recent reporting year by a total of 12 of the largest front-range water providers. While the cost assumptions in this report may be greater (or less) than the actual costs encountered by some homeowners, this is still a very small number compared to BBC's midpoint estimate that there are about 104,000 acres of turf in Colorado.
Other Efforts
Reduction and removal of non-essential turf: HB-22-1151 is also just one part of several other turf and landscape transformation efforts underway in Colorado. In connection with the current existential threats to the Colorado River, Denver Water, Aurora Water, Pueblo Water, and other major Western water providers diverting from that River recently executed a memorandum of understanding calling for a 30 percent reduction in "non-functional" or "non-essential" turf in their service areas. HB-22-1151 also encourages the removal of non-essential turf. This category includes medians, areas adjacent to open spaces or transportation corridors, areas with greater than a 25-degree slope, stormwater detention basins, commercial, institutional or industrial landscape areas, areas irrigated by HOAs, and portions of residential yards. BBC estimates that there may be around 26,000 acres of non-essential turf in Colorado. A 30 percent reduction of non-essential turf just in the service areas of the water providers who are parties to the MOU would represent an enormous increase in the current pace of lawn replacement.
Restrictions on new turf: Given the cost to retrofit existing turf with waterwise landscaping, the CWCB and most water providers recognize that an essential tool in achieving water savings and encouraging the use of native and low-water plants is to prevent turf from being planted in the first place. To this end, Aurora and Castle Rock have enacted strict limits on the use of non-essential turf in new developments or redeveloped areas. Other water providers are expected to follow suit. This will create a huge opportunity for the introduction of native plants in the urban and suburban landscape.
Finally, it will be essential to promote equity in the expenditure of public funds for these purposes. Many homeowners and renters are not in a position to participate in turf replacement programs, and turf replacement funding is mainly used by people in higher socio-economic groups. By focusing on parks, commercial areas, medians, and other public spaces in under-resourced neighborhoods, as well as increasing the subsidies available in such areas, the environmental and ecological benefits of native and low-water plants can be more equitably distributed.
What You Can Do!
Contact the Colorado Water Conservation Board and request that it prioritize the use of CO local and regional native plant species in the HB-22-1151 application and grant-making process.
Contact your local water provider and request that it apply for grants under HB-22-1151 to increase the funding available to their turf-replacement program, or to start one if none exists, and that they prioritize the use of CO local and regional native plants in the implementation.
Consider whether any non-profit agencies with which you are involved would be a candidate for a HB-22-1151 grant and encourage them to apply.
Request that your town, city, county, or other land-use planning jurisdiction establish strict limits on future non-essential turf.
If any of you out there have a personal advocacy experience to share, or have experience or interest in policy advocacy to contribute to this column and/or join the advocacy committee, please email Danna Liebert, WOFR Advocacy Committee Chair.
Curious to learn more about transforming your garden into a habitat with Colorado native wildflowers, grasses, shrubs, and trees? Check out our native gardening toolkit, register for an upcoming event, subscribe to our newsletter, and/or become a member – if you're not one already!