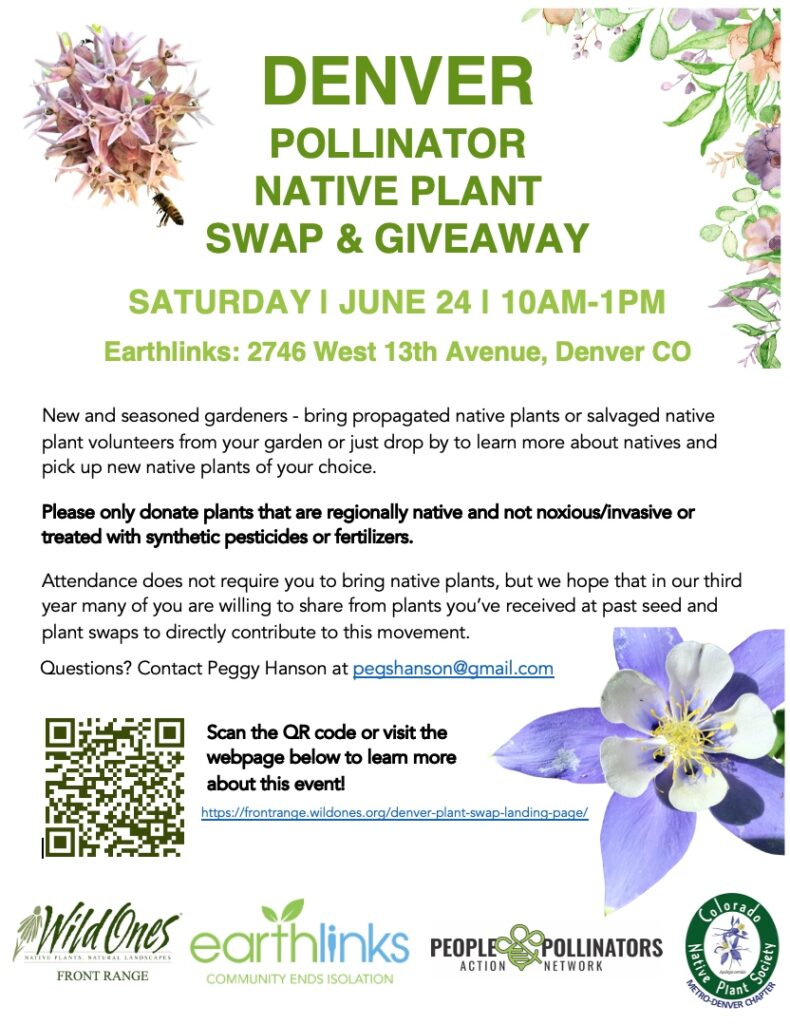 If you're looking for Native Plants for the Colorado Front Range, make sure to join us for our Native Plant Swaps each year in June and our Native Seed Swaps in the fall. Join us to get on our email list for announcements for upcoming native plant swaps and events.

June is the month of PLANT SWAPS!

Wild Ones is partnering again with other great organizations to host Plant Swaps and Giveaways in Fort Collins and Denver. Swaps are fun and festive events to get more native plants in the Front Range landscapes to improve our ecology, expand your native plant palette and save precious resources. Spread the word! Participants need not bring plants to take plants, but of course, please share some of your garden's bounty if you have extra native seedlings and plants to share! (Please pot up and label each plant as specified on the event pages that follow.)
Volunteers are needed for a successful event—see the many ways to get involved at the event web pages. You can make a difference!
June 17th – Ft. Collins Plant Swap at the Ft. Collins Xeriscape Garden Party, 300 La Porte Ave, Ft. Collins (same location as last year!)
June 24th – Denver Pollinator/Native Plant Swap and Giveaway at Earthlinks, 2746 West 13th Avenue, Denver (same location as last year!)
Curious to learn more about transforming your garden into a habitat with Colorado native wildflowers, grasses, shrubs, and trees? Check out our native gardening toolkit, register for an upcoming event, subscribe to our newsletter, and/or become a member – if you're not one already!